The following post was originally published over at SeasonedCitizenPrepper.com. It can be scene in its original format HERE.
by "The Coach"
I am not ashamed to say that I am 63 years old. I have been a prepping since I have been 17 years old. This is a long time before "Prepping" was fashionable.  I was in the U.S. Military, Law Enforcement and worked for a number of years as an E.M.T. I have many stories and have written articles about many of those experiences.
Until two (2) years ago, my bug out bag was a large back pack loaded with everything I thought would be useful in case I needed to bug out in an emergency. My bug out back pack weighed a little more than 74 pounds. Then I had a series of medical emergencies that changed everything.
I had a heart attack and now have a heart condition called "A. Fib." About six (6) months after that I fell and blew out my entire left shoulder. I now have more screws, pins and plates in my left shoulder than I have in my tool box. The strength and range of motion, in my left shoulder, is greatly reduced.
I tried to put on my Bug Out Back Pack and learned quickly that it was NOT going to happen. Also I doubt that I could carry it very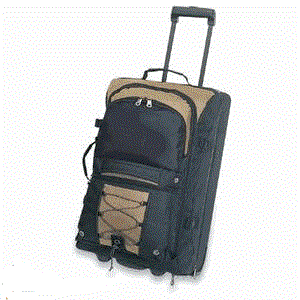 far.
I then tried a large black duffle bag. When I placed all of the gear that I had in my Bug Out back pack in the black duffel bag, I could not lift it and carry it for very long. I had to find another solution.
One day, I went to pick up a friend of mine at the airport. While waiting for him to arrive I observed the solution to my dilemma, a large, wheeled, soft sided piece of luggage. I could put whatever I wanted in the piece of luggage, no matter what the weight. I could then wheel it to my truck and put it in the bed of my truck for transport. If I had to evacuate by foot, for whatever reason, or abandon my truck, I could pull it on its wheels wherever I needed to go. Yes, I know, pulling it off of a sidewalk or street would be a challenge.
I have purposely not hung anything on the outside of the roller bug out bag so it looks just like a piece of luggage and not a bug out bag. This is very important so you do not make yourself more of target than you have to. What is nice is that I have even placed my M-4 rifle, disassembled in two (2) pieces, upper and lower halves and the ammo and magazines for it, in this wheeled bag. I can walk down the street pulling it and I look like a tourist.
So now I have everything that I would normally have in a bug out back pack plus extra firepower.
Quote:
"He who passively accepts evil is as much involved in it as he who helps to perpetrate it."            
---
Like what you read?
Then you're gonna love my free PDF, 20 common survival items, 20 uncommon survival uses for each. That's 400 total uses for these innocent little items!
Just enter your primary e-mail below to get your link. This will also subscribe you to my newsletter so you stay up-to-date with everything: new articles, ebooks, products and more!
By entering your email, you consent to subscribe to the Modern Survival Online newsletter. We will not spam you.