New MSO(ModernSurvivalOnline.com) sponsor SurvivalFoodPrep.com is having a fantastic sale exclusively for readers of MSO and SeasonedCitizenPrepper.com. 
Here are the details: 
72 Hour Food Kit for 2 people. Regular price is $129.95, however for a limited time and limited quantity – these are being reduced to only $89.95. That is $40 off! (1/1/13 through 1/7/13)
Special sale is running January 1st thru January 7th, 2013.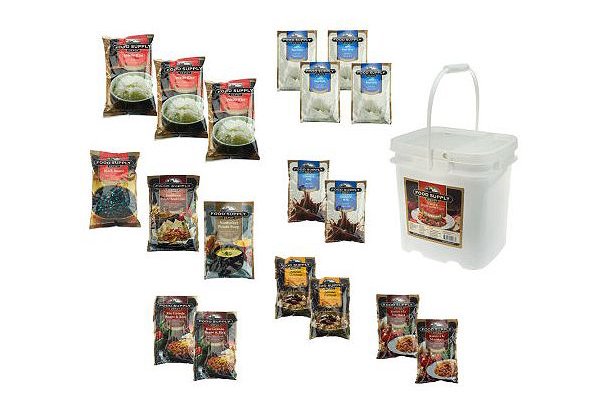 This 72 Hour Kit was specially crafted from the best meals, entrees and beverages to provide 72 hours worth of calories for two adults. They were created for a recent promotion and SurvivalFoodPrep.com has acquired a limited supply of the kits that were left over at an incredible price! There is no limit to the number you can purchase, however these kits will disappear when they run out.
Emergencies happen when you least expect them, so make sure you have a food supply at the ready with these vegetarian dry mix meals. Designed to feed two adults for 72 hours, these 17 meal pouches produce 80 servings, and provide 2350 calories per day. They are similar to military-issued MREs, cook in eight to 10 minutes with just water, have a shelf life up to 20 years, and are easily transported. From Food Supply Depot.
Includes:
Three servings Southwest White Bean Chili

Four servings Texan Sunrise Skillet

Five servings Nantucket Potato Soup

Six servings Rio Grande Beans and Rice

Eight servings Artisan Oatmeal

Eight servings low fat Chocolate Milk

Ten servings White Rice

Ten servings Black Beans

Ten servings Rotini la Marinara

Sixteen servings 100% Real Milk

Net weight 8.27 lbs

Up to 20-year shelf life

Will feed two adults

2350 calories per day

Cook time eight to 10 minutes

Made in USA
 To make this deal even better – for the first 25 people who purchase – use the following special coupon code for an additional $10 off:
Additional $10 Off Coupon Code:
ROURKE10
So – use the coupon code and the kit can be purchased for $79.95. 
For more information – click HERE.
Check it out.
Rourke
---
Like what you read?
Then you're gonna love my free PDF, 20 common survival items, 20 uncommon survival uses for each. That's 400 total uses for these innocent little items!
Just enter your primary e-mail below to get your link. This will also subscribe you to my newsletter so you stay up-to-date with everything: new articles, ebooks, products and more!
By entering your email, you agree to subscribe to the Modern Survival Online newsletter. We will not spam you.